1) Copy what we do…
2) Learn why we do it…
3) Make your profits.
It's that easy!
–  You don't need all those expensive training courses and over-priced software.
–  You don't need the months it takes to learn all the ins and outs of the Forex market… Months you could be making money instead!
–  You don't need to spend hours upon hours a day watching a computer screen just so you can jump in on any little movement in the market. Glorified gambling at its best.
Now There's a Better Way. A Safer Way: Introducing Plain Forex Trading Signals
Plain Forex Signals are made for people like you who actually have a life. It's easy to learn – easy to use – easy to trade.
When you subscribe to Plain Forex Trading Signals:
We send you low-risk, high-profit Forex signals every morning before 8AM EST by email, text message and Twitter
We give you exact entry prices, stop-loss orders and profit targets
We send you upgrades during the day of any open trades as they progress
At the end of the day, we'll send you an email with charts and detailed explanations of all trades made during that day.
Get your trades sent to you this morning – make your profits tonight.




There's no easier way to make money in the Forex Markets!
Why should you choose Plain Forex Signals?
• We publish actual trades with proven results – no one else does this
• We trade almost every day with low preset risks and potentially unlimited rewards
• Look over our shoulders, watch our trades and learn the reasons behind each one
• Professional commentary during the day
• Trade in your spare time
• No need to constantly watch the markets – Set your trades and Go!
• Learn proven trading strategies just by watching
• Learn to trade like a Professional and avoid common trading mistakes
• Get fast, reliable trading signals
• Ask Questions – Get Answers – Fast!
• Access Anywhere – Home, Car, Office or Beach.
But don't take our word for it – here's what our customers are saying:
really like this service.  explanations are clear and appreciated.  hope you and your service stay around a good long while.
great trading yesterday……helps keep my optimism up to leave my company for full time trading next year.Hi Dave, Good call today!
Thanks very much for your detailed answer Dave. A lot of Pips!
Dave, Good call. Hope the mojo be with you.
good stuff dave. 
Well done. A nice profitable week!
Hey Dave…made some nice pips today!
Good solid trades based on analysis that is clearly explained and managed to end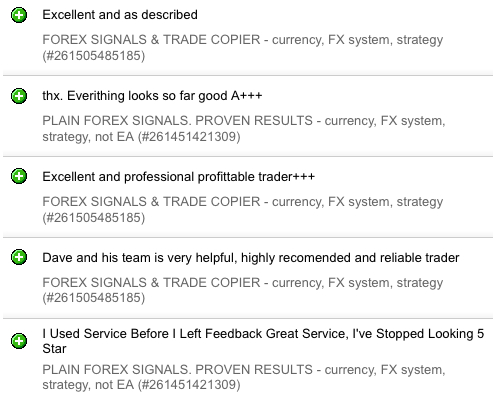 Subscribe to Plain Forex Signals and reach Financial Independence Faster.
You can cancel any time. No Contract – No Obligations!