The enormous trading volume and 24-hour operation make Forex much more volatile than other financial markets. Prices can change dramatically in seconds, which in many cases effectively eliminates your profits in a blink of an eye. The most effective way of dealing with this inherent volatility of Forex is to take some of your virtual profits off the table while you still can. This trading approach is used in all financial markets but in Forex it becomes practically indispensable and can be done automatically too. All Forex brokers allow setting so-called profit targets. And we highly recommend taking advantage
Today's signal was another example of projecting profit targets. The actual Forex signal that we sent out this morning was as follows:
From: Dave Hughe <plainfx@gmail.com>
Date: Wed, Feb 3, 2016 at 8:37 AM
Subject: February 3
To:
USDJPY Sell 118.99 SL 119.41 P1= 118.66 P2= 118.42
Due to the the upcoming news release, we had to cancel this signal in order to avoid being caught in the news-related volatility. Nevertheless, on the chart below you can see how price paused and hesitated at our projected price points. While this time the move down continued, it could have easily reversed there.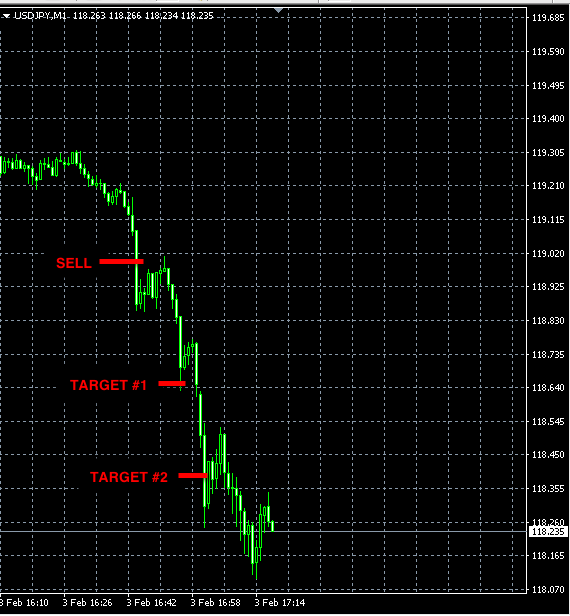 In our e-book we present a powerful robust system that will enable you to project price turning points with great precision. This system can be used with any trading strategy, on any time frame and in any market. Regardless of your trading style or risk preferences you can start using our system right away to significantly improve your bottom line: "Forex Hacking. Learn The Secret Tricks Professional Traders Use To Make A Financial Killing."