Finetero Highlights
Finetero is a CFD and Bitcoin trading platform, founded in 2018 and currently serving traders in over 150 different countries. Providing customers with access to top-tier liquidity and a wide range of trading tools are some of the brand's main goals, while also putting an emphasis on strong security and customer-friendly services.

With Finetero you can trade FX at leading costs and fast execution speed, at a time when currency volatility is elevated. Thanks to reliable and diverse trading software, plus plenty of educational resources, traders working with this provider can be part of a growing audience. Are you trying to find out if Finetero is the right platform for you to trade with? If you are, our Finetero Review should provide the information you need. 
Trading Software
Aware of the importance of proper trading software, Finetero is currently offering two reliable solutions:
Each of them comes with several advantages, able to adapt to different circumstances. The WebTrader can be accessed via any browser and thus does not require any installation. On top of that, it has a friendly user-interface and it integrates advanced charting and other functionalities, including making deposits, 5 different languages, and various themes. 
This is a platform that can be used on any type of device (PC, laptop, or mobile), allowing traders complete control over their trading accounts. 
On the other hand, MetaTrader 4 provides a great solution to trade the markets, given its established reputation and integrated tools. With MT4, traders don't have to worry about trading execution or security, since millions of people use and trust this software. We are pleased to see Finetero focused on providing optimal trading platforms, making sure traders with different objectives can find what they want. 
Finetero Assets
The main term when describing the Finetero asset coverage is "diversity". Forex, stocks, indices, commodities, and cryptocurrencies are covered by the brand, which means it is possible to either focus on a specific asset class or build a diversified trading portfolio. 
You can trade forex with Finetero and take advantage of narrow spreads, high leverage, fast execution, and optimal liquidity conditions. The average execution time for trades surpasses 7.12 ms and on top of that, the trading infrastructure is powered by Amazon AWS.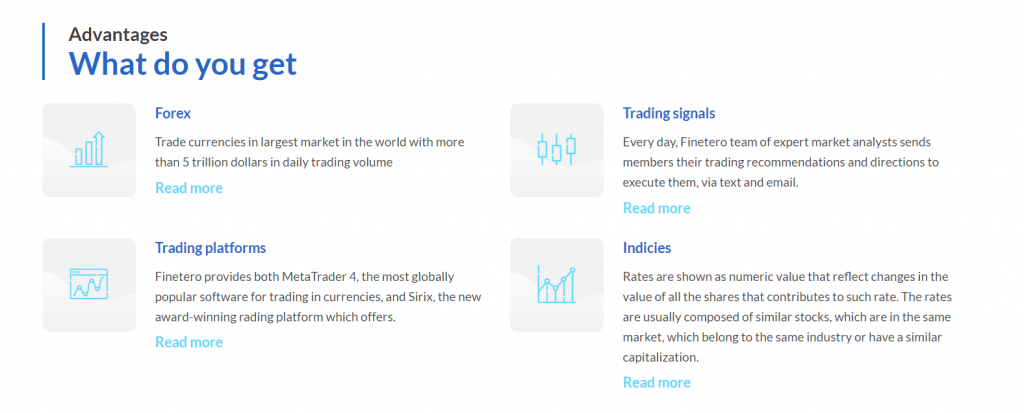 Even though our main focus is on the forex trading offer, it is important to note that Finetero offers advantageous conditions for stocks, indices, and commodities as well. It is one step ahead of the competition in terms of its crypto coverage, thanks to tens of different instruments currently part of its offer. 
Account Types
Before talking about the account types available, we should mention Finetero holds customer funds in segregated bank accounts and uses STP/no dealing desk execution. Trading is available with deposits starting at 200 euros, for which customers get access to a Bronze account. 
Notable features like Trading Central Daily Newsletters and Premium Signals, a private trading academy, and standard trading commissions are part of that account. To get access to enhanced features, traders can also choose from Silver, Gold, Platinum, and Premium accounts, requiring larger initial deposits. 
Traders also need to be aware of the dormant fee of $100 per month, which applies after an inactivity period of more than 45 days. Finetero has an auto trading software fee as well, but access to auto trading features depends on the account type chosen. 
Education
Knowledge is a powerful weapon when trading in financial markets and Finetero wants its customers to be updated with reliable data. As a result, customers can get access to webinars and seminars, resources provided by Trading Central, and a comprehensive trading academy.
Large account holders can benefit from access to the Event Room, private trading sessions, Finetero Investments Mirror Trader and RoboX, and VIP services. Bronze accounts get the fewest educational resources, but even in their case, there is enough to learn how to swim in the markets. 
Summary
All the trading benefits described, combined with several awards already received by Finetero, confirm that this is a brand fully committed to providing top-notch trading services. What stands out is the proprietary WebTrader and also the very tight spreads for the popular FX pairs. In case you are a beginner, the educational resources provided will get you through the initial steps, helping you understand how financial markets work. 
Advocating for complete transparency, Finetero is sharing all the relevant information about its services on the official website. Check it out in case you want to find out more about the benefits when trading with this provider.