Eiro-group Highlights
Eiro-group is a leading trading platform, specializing in providing access to a multitude of tradable assets. Its current coverage includes a wide range of instruments that customers can use, in order to profit from both rising and falling markets – whether forex, indices, commodities, or stocks from Europe, Canada, USA, or Australia. ETFs, and bonds are also part of the company's offer. 
Because its main goal is to help investors achieve financial freedom, Eiro-group has managed to develop a long-term, high-yielding investment program, suited for both beginner and advanced traders from all around the world. 
For Eiro-group, transparency, customer privacy, and financial proficiency are important values, and thus the brand has put into place multiple policies regulating its activity. As long as trading in the financial markets is attractive – thanks to high volatility – a provider like Eiro-group needs to be analyzed in-depth. That's what we want to do today, hoping to help all of those looking for a trusted online brand. 

Trading Software
Trading with confidence is important during these challenging times and Eiro-group relies on software that's secure and easy to use. This is a proprietary solution, aimed at offering a unique trading experience for any aspiring retail trader. 
Some of the most important benefits worth mentioning are a live TV mechanism, suited to watch some of the latest market news. For customers preferring to read, there is also a news section where price-moving headlines are constantly updated. 
Traders can place price alerts, create favorites lists, make deposits, or see the gainers & losers for the day, all through the platform. If they need to talk to an Eiro-group representative, the integrated chat feature is the most convenient method. 
Via the settings menu, you can always access your profile and history, request a withdrawal, and change your language preferences. The list of integrated technical indicators includes ATR, Bollinger Bands, EMAs, CCI, Stochastic, RSI, and plenty of other popular tools used by traders day in and day out. 
To ensure a greater degree of flexibility, the Eiro-group platform is web-based and thus can be accessed via any type of device, including smartphones or tablets. Managing trades from your desk or on the go is no longer an issue, thanks to how the platform can be operated.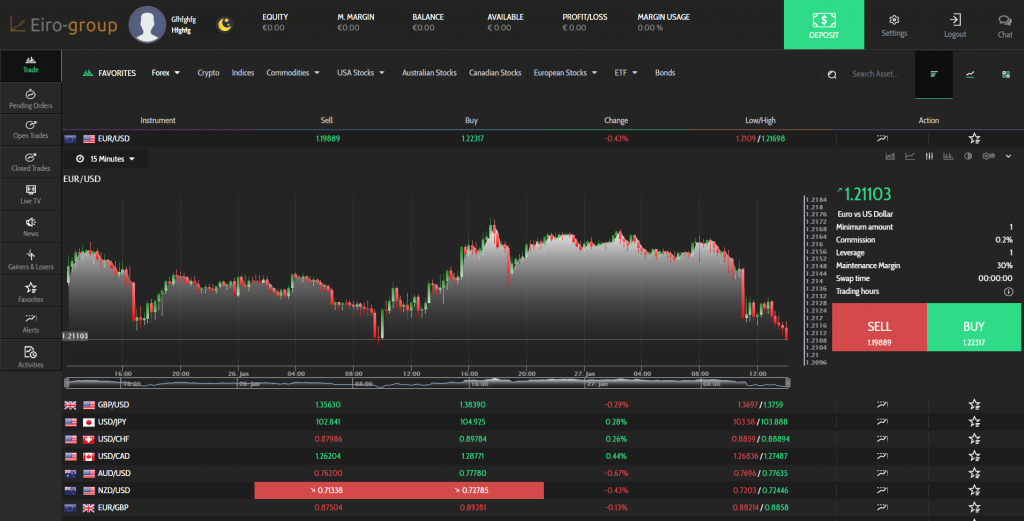 Eiro-group Assets
When choosing to work with Eiro-group, traders gain access to a wide array of trading instruments. They have the unique opportunity to get involved in tens of currency pairs, global indices, ETFs, bonds, and stocks, from the USA, Australia, Canada, and Europe. 
With such a diversified list, Eiro-group clearly strives to be a place where various traders can gather and find the right instruments that suit their geographical locations, trading schedules, and strategies. All these assets can be traded on margin and with variable spreads, depending on market volatility and the account type chosen. 
Account Types
As part of its plan to ensure ample diversity, the Eiro-group trading account offer includes 6 different options, one to suit the needs of any trader out there, wishing to trade the market with personalized conditions. Basic, Silver, Gold, Platinum, Diamond, and Millioner Club accounts are now available, each offering a pack of features. 
Among the most notable benefits, it is important to note trading alerts, a loyalty bonus of up to 100%, daily market reviews, and support from an account manager. These benefits increase as the account grows, with Millioner Club being the largest.
To fund an account, traders can use a credit/debit card and the amount is transferred to their trading account within seconds. Wire transfers are also accepted by Eiro-group, although in this case, it can take longer until funds are visible.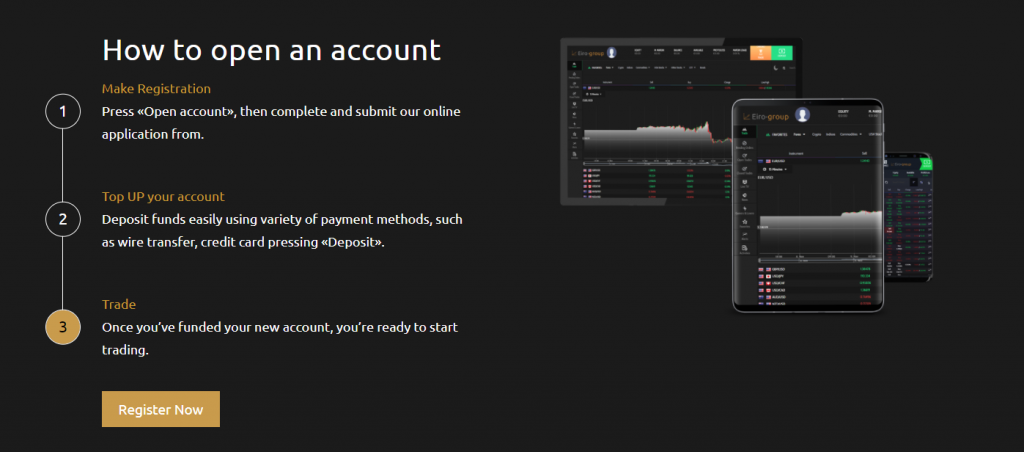 Education
Eiro-group believes education is one of the keys to unlocking one's full trading potential and is offering multiple resources, available for free on its website. On top of that, traders can also benefit from other educational tools once they open and fund a live account. These resources are distributed in proportion to the deposit made. 
Summary
The trading services offered by Eiro-group are in line with requirements relevant to 2021 and traders from all around the world can take advantage of them by simply opening an account. This trading platform believes in empowering traders via a solid pack of trading features and professional customer support. Eiro-group is a reliable brand, constantly upgrading its offer based on market changes and customers' demands.