Trustpac Highlights
Trustpac is an international online trading platform serving customers who reside outside the EU, and currently supports a wide variety of different CFD instruments based on cryptocurrencies, FX, stocks, commodities, indices, and futures contracts.
The company recognized the demand for personalized trading services that will help traders navigate the challenges of market fluctuations, and as a result has crafted a unique service offer that relies on proprietary trading software.

Trustpac is a great place for both beginner and expert traders. The broker provides a variety of educational resources such as one-on-one sessions with trading experts, an education center, trading guides, and does this via a state-of-the-art platform that is user friendly and easily accessible, providing market-leading spreads, as well as the latest economic and market news.
With Trustpac, traders can execute trades quickly, and a wide variety of funding options and currencies are supported. The broker has set up a team of customer service professionals that is available to provide support 24/6. In this comprehensive review of Trustpac and its services, we will examine the brokers offering to gain  insight into this online trading platform and figure out which type of trader can benefit the most from it.
Trading Software
Trustpac provides a totally unique trading experience thanks to its proprietary web-based software. This optimized solution is user-friendly and so it is perfect for both beginners and experts alike. This software utilizes all parts of the screen and allows traders to enjoy expanded viewing options. On the left, traders choose which assets they wish to see displayed, in the center, traders can see the charts on top and the orders section below, and on the right, the broker has added an update section containing all the latest news updates from the market.

Because this is a web-based platform, customers can use it from any browser on a desktop or laptop, and also on any smartphone or tablet running iOS or Android. As a web-based solution, it is scalable and responsive and works with all screen types, so traders can utilize it at their convenience and with no limitations.
Trustpac's platform combines a practical approach alongside popular trading features, offering a solution for traders who wish to have their own personalized trading experience, but do not wish to sacrifice some of the better known tools of the trade like Charts, technical analysis tools and more. Regardless of your trading strategy, Trustpac's offering will support it.
Trustpac Asset classes
Trustpac is a great platform for trading Forex, supporting many different currency pairs. Traders can choose to trade on leading pairs such as USDJPY, EURUSD, or GBPUSD, as well as minors or exotic (USDSGD, AUDJPY, or USDZAR) with leverage of up to 1:100, floating spreads, no commission, and a routine trading schedule from Monday to Friday.
However, even though FX trading is one of the main focuses of the Trustpac platform, that is not the only asset class supported by this broker, and other asset classes are supported as well. Traders can choose to diversify their portfolio with a wide selection of CFDs in cryptocurrencies, shares, stock market indices, futures, and commodities. As these are CFDs, traders can choose to go long or short with no limitations. One doesn't have to have massive capital in order to get started in CFD trading with Trustpac, as the smallest order size is 1,000 units (micro lot).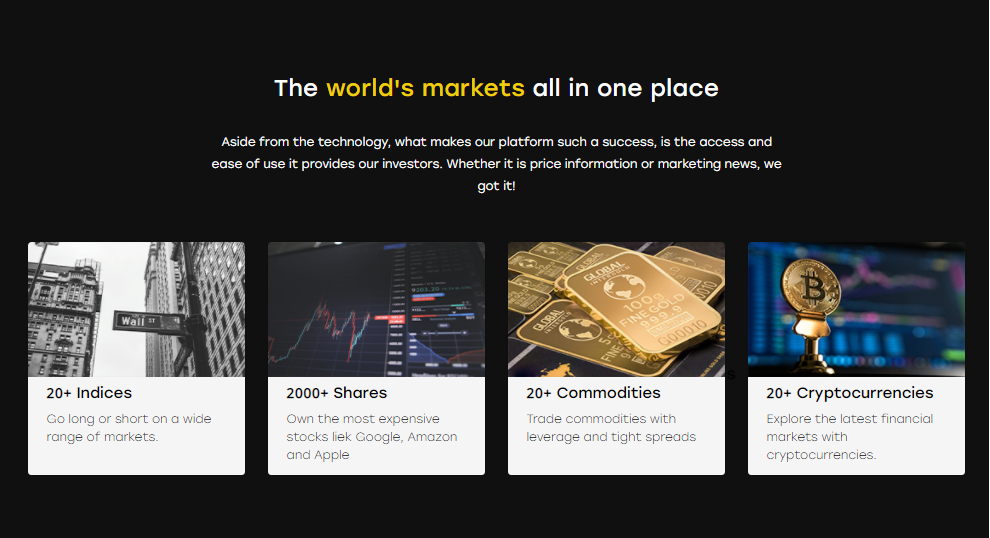 Account Types
Trustpac wants to ensure all customers can gain access to competitive trading conditions. For this reason, and unlike its competitors, it only offers a standard account. Here are the main trading features of the account:
–          Mobile friendly 
–          Tight spreads
–          Access to an education resources
–          Latest economic and market news updates
–          Fast trade execution
–          Exclusive positions
–          24/6 support 
–          Exclusive reports
–          One-on-one sessions with trading experts.
With Trustpac, transferring funds over to an account can be done easily by using either a credit card, debit card or bank wire transfer. Included in the brokers service offering, is equal access to all customers to a range of features that include expert analysis on the leading stocks of the previous month. There are also bonus promotions occasionally carried out by the broker, which allow customers to upgrade the size of their account. The full information about these services and features can be viewed in the company website under the terms & conditions.
Education
Trustpac does not fall behind other respectable trading brands, and also offers its clients educational resources aimed at helping them become better traders. Trustpac clients gain access to the latest market news and developments, an education center, economic calendar, and one-on-one sessions with trading experts. This is a wide array of professional services that is all part of Truspac's service offering.  
Trustpac believes that dedicated beginner traders can learn how to become better traders with exposure to the proper knowledge that will help them develop better trading methods and techniques. For this reason, its educational resources stay up to date and continue to recieve good feedback.
Conclusion
Tustpac allows traders to trade in FX CFDs as well as other asset classes, promoting a safe and secure, state-of-the-art trading environment with many handy features and tools, and a customer-centric approach that make their service offering stand tall amongst its competitors in the industry. 
To conclude this review, Trustpac seems to be a top quality broker that provides a transparent, safe and secure online trading environment that a wide array of CFD traders will find hard to resist.