What's ArgoTrade?
ArgoTrade is a CFD trading provider offering tried and tested software to anyone who wants to get involved in a wide range of assets. The company operates internationally, even though it does not accept customers from certain jurisdictions such as the EU or USA, according to local laws. 
Regulated by FSA, ArgoTrade follows strict requirements, making sure its traders can benefit from security and professionalism. Financial markets are challenging and now the question is whether choosing ArgoTrade as your broker would be the best decision. 
ArgoTrade CFD Assets
The markets covered by ArgoTrade include stocks, indices, commodities, bonds, forex, crypto, and ETFs. There are over 2,100 CFDs available, enough to meet the diversified demands of a global trading audience. 
Depending on which asset class you want to trade, the broker offers flexible margin requirements and competitive trading costs. Keep in mind the multi-lingual client support available 24/5 to give assistance for all account holders if they need it. 
Also, it's worth noting the ethical approach to trading embraced by ArgoTrade, which promises low spreads, fortified protection, transparency, and professionalism. 
ArgoTrade Software
The ArgoTrade WebTrader is the main trading platform which is part of the broker's offer, mainly because it was developed in-house, providing a customized interface, as well as a variety of trading tools. All you need to know about ArgoTrade's WebTrader is available on the broker's website. You can check all the details and decide whether this solution fits your trading goals.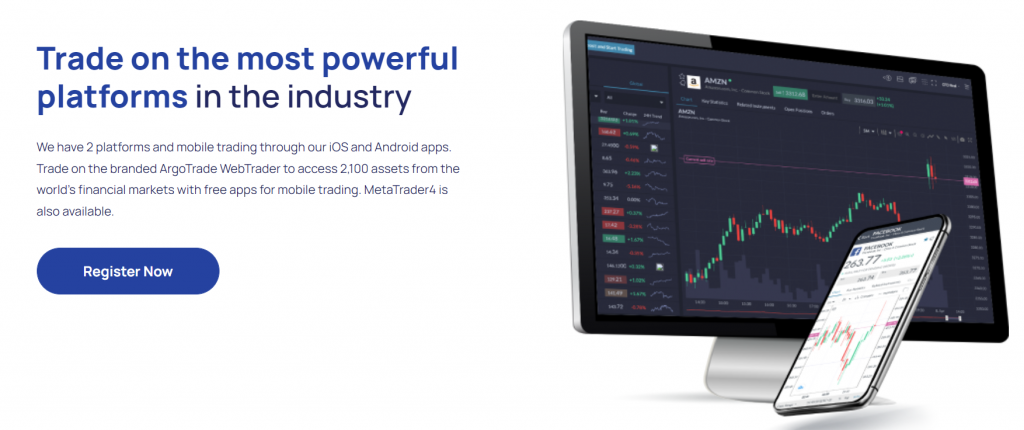 On top of that, ArgoTrade is offering the MetaTrader 4 solution, a platform that is still very popular among traders from all around the world, despite being a veteran platform. With an established trust and reputation, MT4 continues to be a solid benchmark for how a proper trading platform should be structured. When using it you gain access to a broad range of Expert Advisors, as well as many useful trading tools. 
ArgoTrade Accounts
People joining the ranks of ArgoTrade come with different expectations and are able to allocate more or less capital to the cause of trading. In light of that, the company has a diversified account offering, which now includes 5 solutions:
Micro

Silver

Gold

Platinum

Exclusive
When it comes to the Micro account, it is available for as little as $100, one of the smallest deposit requirements in the industry. Depending on clients' choice, the company has a wide range of benefits for customers, including the popular Trading Central, premium daily analysis, and dedicated account managers. 
If you want to make a secure deposit, ArgoTrade accepts payments using credit/debit card, Skrill, Neteller, and wire transfers, among other methods. These remain some of the most trusted solutions in the market, guaranteeing complete privacy of your payment details. 

ArgoTrade Final Words
Considering all the benefits offered by ArgoTrade, we believe it would be fair to assume this CFD broker deserves the credit it currently receives. Regulated, transparent, and competitive, it offers attractive conditions for all customers, regardless of the account type chosen. Now that financial markets are accessible to everyone, there should be no major roadblocks when signing up for an account.