Crypto trading is not for the faint-hearted, it comes with high risk, and many new traders struggle to succeed. However, many brokers have already realized that they must support their clients by equipping them with the proper skills.
Finding a good broker is not an easy task. Therefore, we took the liberty to review them on your behalf. 
CryptGain is a relatively new brand that provides access to trade digital assets, and we have evaluated their services to determine if they are appropriate for you.
About the Brand
CryptGain's asset list contains over a hundred crypto pairs which you can access via their web-based trading platform. Their system was designed by a team of industry professionals and IT specialists. 
The company utilizes cutting-edge encryption technology, similar to that used by large online merchants and banking systems to protect clients' data and privacy.
As a result, traders can concentrate on the trading process rather than worrying about the security of their funds.
Trading Platform
CryptGain's user-friendly trading interface allows you to access the crypto markets from your PC, smartphone, or tablet. The brand offers a range of opportunities to trade on derivatives of the most popular virtual assets, while keeping users up to date with current market trends and industry news.
The web-based platform includes all of the necessary tools and charts needed to perform technical analysis. The forum is appropriate for both new and experienced users who want to trade in a secure environment.

Account types
Traders can choose between three account types, depending on their budget and needs. The different options are: 
The broker requires clients to undergo the KYC process to verify their information. The minimum required amount to open one of these accounts is $5,000, and you will receive several benefits that come along with it. Those looking for more premium benefits like one-on-one analysts and portfolio managers can choose either Gold or VIP accounts.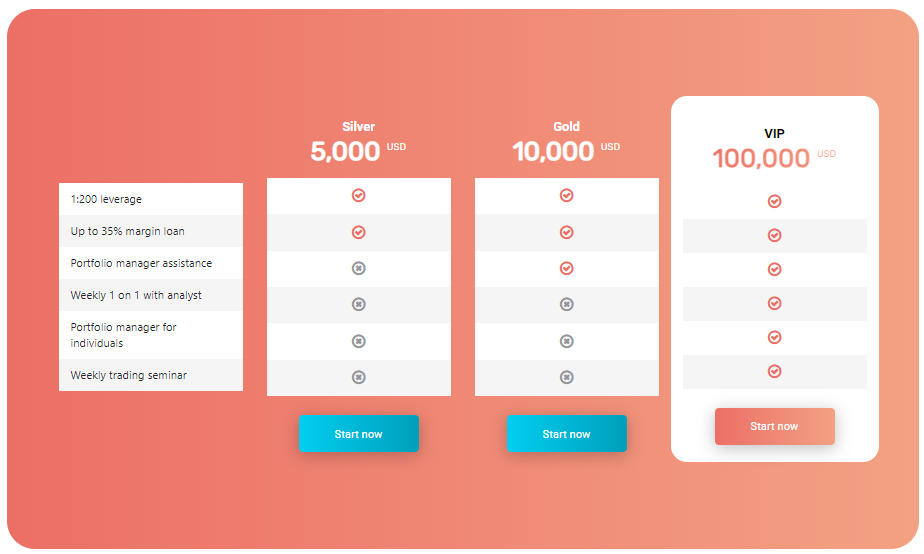 Support Services
The company is fully committed to providing you with all of the help and support you require. The customer support team is operational Mondays to Fridays and can be contacted via email or live chat. 
Payment method
Deposit
Funding accounts can be done by using debit/credit cards, bank transfers, or e-wallets. Deposits are only enabled when the KYC process has been completed. 
Withdrawal
When you request a withdrawal, the money is sent to the same source or method you used to make the deposit. The broker might require additional documentation to complete your withdrawal process. Withdrawals can take up to 10 business days to be processed, but they usually take much less.
Summary
CryptGain has ensured that they provide all the required services to ensure clients' needs are well looked after. 
After analyzing CryptGain's services and features, we can conclude that they are a reliable brand that provides a professional experience, suitable for beginner and experienced traders.